Press Release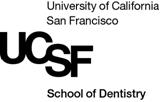 513 Parnassus Avenue
Box 0430
San Francisco, CA
94143-0430
tel: 415/476-1323
fax: 415/476-4226 Source: Cameron Heffernan; 415-502-7179
Email: heffernanc@dentistry.ucsf.edu
Web: http://dentistry.ucsf.edu
FOR IMMEDIATE RELEASE
January 31, 2005
UCSF SCHOOL OF DENTISTRY ASSOCIATE DEAN CHARLES ALEXANDER AWARDED CAMPUS MARTIN LUTHER KING AWARD FOR PROMOTING ETHNIC DIVERSITY
Charles Alexander, Associate Dean for Student Affairs at the UCSF School of Dentistry, was selected as one of three recipients of the 2005 Martin Luther King Jr. Award for his efforts in making UCSF a more ethnically diverse institution. The award winners will be honored Tuesday, Jan. 25, at a ceremony on the UCSF campus as part of Martin Luther King Jr. Commemoration Week at UCSF.
Also being honored on that day will be: Carmen Portillo, associate professor in the School of Nursing's Department of Community Health Systems, and Katherine Lupton, a fourth-year medical student.
"I was so pleased to hear that Dr. Alexander was recognized for this well-deserved honor," said School of Dentistry Dean Charles Bertolami. "His longstanding efforts to make UCSF a more widely representative institution will go a long way to benefiting not just the profession of dentistry and the UCSF campus, but the health care field overall. Dr. Alexander has found new and innovative strategies to enable our school to fulfill its pledge of offering opportunities to all the citizens in California. He remains committed to the goals of public service, diversity and equal opportunity, and is leading the way in finding new solutions to these old problems," Dean Bertolami added.
Established Successful Outreach Programs
Alexander, who won in the staff category, established the nation's first Post Baccalaureate Program exclusively for dental students. The program is designed to boost dental admission test scores and basic science grades of students who intend to practice in underserved communities. In six years, 79 of the 80 students in the program have gained admittance to a dental school. Other dental schools have since created similar programs based on the School of Dentistry's Post Baccalaureate Program.
Alexander and his unit also administer: the Dental Mentorship Program, an alliance between UCSF and San Francisco high schools that brings students into the dental clinics to observe fourth-year dental students and postgraduate residents at work; the Health Sciences Enrichment Program, which introduces high school students who are considering college and careers to UCSF health science and students professionals; and the Undergraduate Mentorship Program, designed to create a pool of students, particularly from underrepresented, disadvantaged and minority backgrounds, who are interested in a dental career. In the latter program, of the 138 participating students, 68 have gone on to dental school and six others are pursuing postgraduate degrees.
Before coming to UCSF, Alexander was the Director of Multicultural Concerns at Marquette University in Milwaukee, Wisconsin where he had responsibilities for faculty development, curriculum enhancement and program development. He worked with the Deans and Directors on campus to assist with diversity initiatives within their respective areas. As Alexander became Assistant Dean & Director of Minority Affairs, he coordinated a national minority student recruitment and retention program designed to prepare pre-health and health professions students for careers in dentistry.
In addition to his duties as Associate Dean at UCSF, Alexander contributes to a wide range of professional activities. He currently serves as Director of the Western Region of the National Association of Medical Minority Educators, Inc. (NAMME). NAMME was established in 1975 by a group of educators concerned about the shortage of public service health care providers and the need to establish an organization to address important issues impacting minority students, faculty and administrations at health professions' schools. The organization has members representing health professions' institutions across the country, and continues to attract members from all health disciplines. Alexander previously served as President of NAMME from 1994-1998.
Alexander is also a National Advisory Committee member for the Pipeline, Profession & Practice: Community-Based Dental Education program, which is funded by The Robert Wood Johnson Foundation. Nationwide, 15 dental schools are participating in this $19 million initiative which is designed to help increase access to dental care for underserved populations by encouraging dental schools to develop community-based clinical education programs and to increase recruitment and retention of low-income and underrepresented minority students.
###